Helen's
Key West Concierge
Services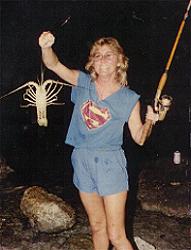 Lobster on a line? Helen knows all the tricks! And she's here to help you maximize your pleasure while mimimizing your stress.
A day trip to the Dry Tortugas is alway both informative and fun.
Whether in the sea plane or on a catamaran, the 70 mile trip into the gulf is always scenic and full of wildlife.
Then once on the Island you'll be treated to a 45 minute historic tour that highlights the eras from the days of pirates to the present.
This is Pepe's Cafe, one of Key West's premier dining establishments.
Many restaurants are converted conch houses showcasing world cuisine in an Island atmosphere.
From the freshest of fish to daily made pasta, Helen is available to recommend and reserve your seat at the finest restaurants to suit your taste and budget.
Fort Jefferson sits 70 miles west of Key West, and is full of history and wonder.
A two and a half hour Catamaran ride over pristine waters or a half an hour sea plane flight through a tropical breeze, this is a must do for all new visitors.
Be sure to ask about the complete tours and all it's benefits.
Continue to
Page Three
Please feel free to call me at:
- 305-849-1815 -
For any questions or comments you may have.